Gayles — an ancient village — the history dates back before the Domesday Book
Following the road north-west from Kirby Hill the small village of Gayles is reached, spread along the road at the foot of a steep wooded slope. In the middle of the village a field road leads up to the hall, a building of early 17th-century date, its mullioned windows being blocked or replaced by larger classical windows at the end of the 17th century. In the centre room on the ground floor, which probably formed an entrance hall, but now is cut off by a partition, is some late plaster work on the beam and ceiling consisting of Greek fret design with roses. The south wing of the house is remarkable for the number of small rooms intended for storage of both wine and provisions, and outside the house are two small cellars rubble vaulted and provided with a stone ledge or bench on each side apparently for the same purpose.
Gayles Manor House, close to the entrance to the hall, is a neatly built house in the classical style, and had once a pleasure garden with flights of steps and stone borders to the paths and flower beds. It is now a farm with modern additions and alterations, but the garden is being cleared and renewed.
A History of the County of York North Riding: Volume 1. Originally published by Victoria County History, London, 1914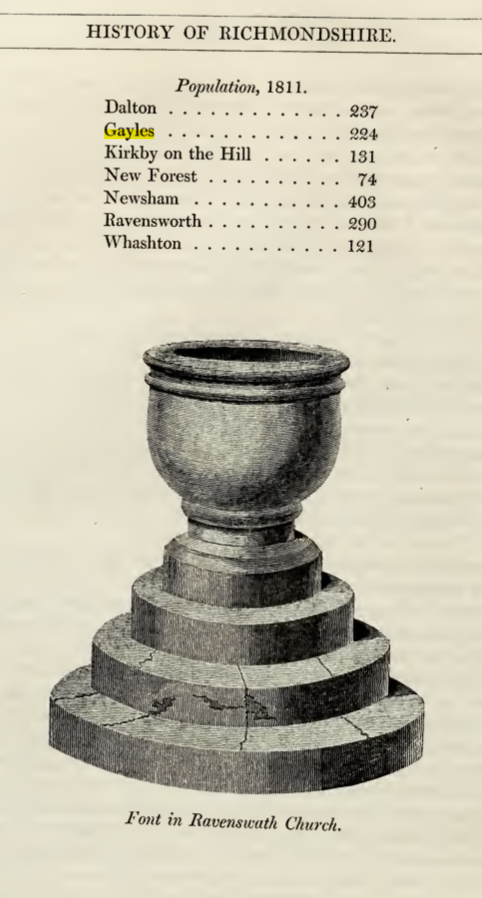 A mile beyond Ravensworth is Gayles, a name which has a counterpart in a village near Hawes, and which means a ' holding ' or wooded place (' Gala,' Celtic, 'gavel,' Anglo-Saxon—a holding) or a ravine (this fits in with the topography of Gayles. The Hall here is an ancient mansion, now a farmhouse, and it was formerly a seat of the Wycliffe family. In this district are many evidences of Celtic occupation.
Further reading
Thanks to Mal & Pat Burgess of Ravensworth for supplying 2 & 3 .. please also click on the footnote icon below for how I transferred document no 3 to this webpage.

1

Historic Photos

Gayles in 1964

Note the Bay Horse Inn at the corner of West Street before Watling Close was built

Gayles in 2001

Watling Close built but not finished. West Steadings under construction.

Some houses in Middle Street and West Street have yet to be built

West Street in 1986

Taken from the Northern Echo Nostalgia series

A selection of interesting local history books
---
At first, I scanned in this document direct to PDF (with text recognition). As expected, this resulted in a large file (26.8MB). As a result, the file had to be located in my Dropbox folder, with a weblink from the Gayles.Info website to this file. The original document has been produced using a typewriter. This has resulted in: A monospaced font Missing letters and spelling mistakes Use of underlining rather than italics for book titles and foreign words Ordinary quote marks rather than smart quotes — and hyphens rather than en dashes The use of full stops in abbreviations is 'old style' — I have decided to keep this typewriter style as used by the author Editorial decisions – Norman uses metric and imperial measurements in that order. I have removed the imperial measurements to simplify the document – most people will be able to convert if necessary. He also uses Henry 2nd rather than the usual Henry II. These occurrences have been corrected. The transfer to a word-processing program gives a proportional spaced font, full spell checking and different fonts and font sizes. Automatic content production with live links to the content page in the PDF I have also been able to clean up the document with removal of artefacts produced by multiple photocopies. The PDF file is now much more accessible – 5.6MB in size and is more pleasant to read, the content is searchable and the table of contents works Thanks to Norman Butcher for writing this history in 1985↩