There is a proposal to reopen the quarry to the east of Gayles. This closed in 1895.  The proposal would involve extraction of blocks of sandstone over a 15 year period.
The stone would be moved by lorry to Barnard Castle via the old farm track (U1095) to Sturdy Houses, and onto Sturdy House Lane. Turning left onto Stonygate Bank, the lorries would travel down this steep bank and transit via Ravensworth, heading for a junction with the A66
Details are in the attached letter and site plans Quarry reopening
The proposals have yet to go through a formal planning application – it is expected that the proposals will be greeted by dismay from the local population.
This map shows the location of the old quarry – about 1k from the centre of Gayles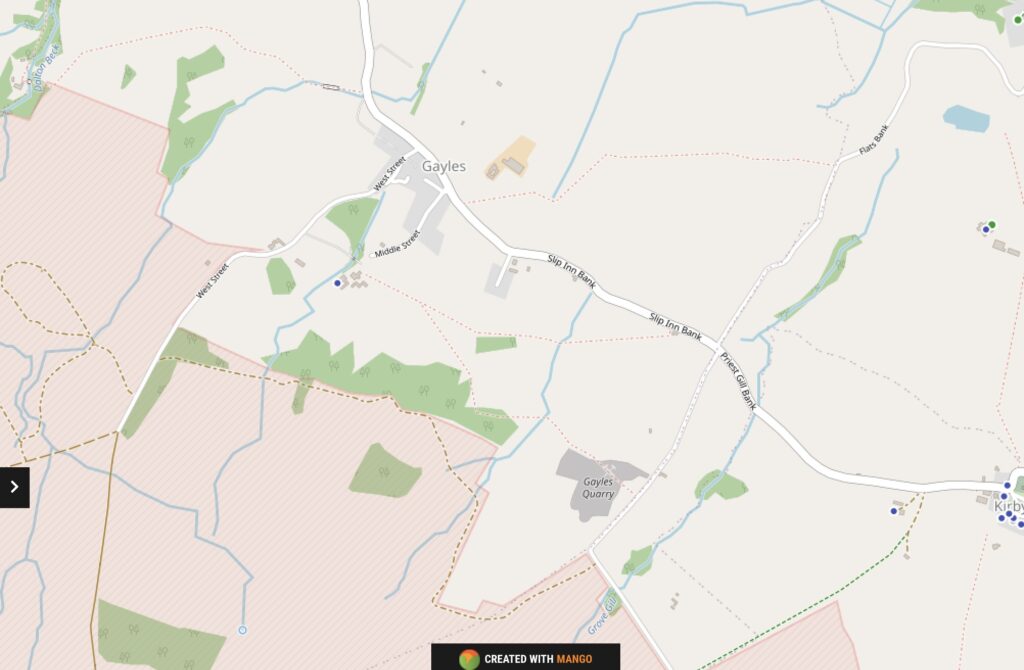 if you wish to contact the Quarry managment – here are the contact details:
Dear Ms Stanwix,
Since writing to you in relation to the proposed re-opening of Gayles Quarry I have spoken to representatives of Ravensworth Parish Council and the Northern Echo and have received some emails from residents.
May I take this opportunity to assure you and the parish council that myself and Stainton Quarry Ltd aim to be as open as possible to all residents of the area who may have concerns or general questions about this proposal.
If you wish to discuss anything relating to the proposal or would like further information about Stainton Quarry Ltd and our business, please don't hesitate to contact me directly via phone or email and I will be happy to speak with you.
Thanks and kind regards.
Tim McHale (Tech IOSH).
Safety & Environmental Manager.
Stainton Quarry Ltd.
ROCKS R US Landscaping Products
Teesdale Memorials (Barnard Castle) Ltd.
Stainton Village, Barnard Castle
County Durham, DL12 8RB
Office: 01833 690444
Mobile: 07986 536065
www.staintonquarry.co.uk
www.teesdalememorials.co.uk
www.rocksrus.co.uk
25/04/2022
Below you will find a document that details the transport arrangements planned. It is dated December 2021. Rumour has it that this company has been planning the reopening of the quarry since 2008
Gayles Quarry Transport Statement_20220424_0001 (optimized)
04/05/2022
Here is a letter to Gayles Residents from Cllr Angus Thompson (Cons)
2022-05-04-11-36-00 Angus Thompson letter re quarry
Here is a copy of an email from Jane Parlour the Liberal candidate
local elections and Gayles issues
Application documents
NYPA15-Minerals-and-Waste-Application-2016—KW16-5-2022
220428—Local-Access-Forum-Comments
Landscape-and-Visual-Impact-Assessment
Hydrological-and-Hydrogeological-Assessment-June-2021—redacted
Justification-for-Reports-not-provided
PHASE-B—-C-(PHASED-WORKING-SCHEME)
PHASE-A-(PHASED-WORKING-SCHEME)
LVIA-Figure-4-Restoration-Strategy
FOOTPATH-DIVERSION-19_1030_SQ_L_004
The collected opinions of residents from the surrounding villages have been collated by Sally Zaranko from Whashton and can be viewed here